History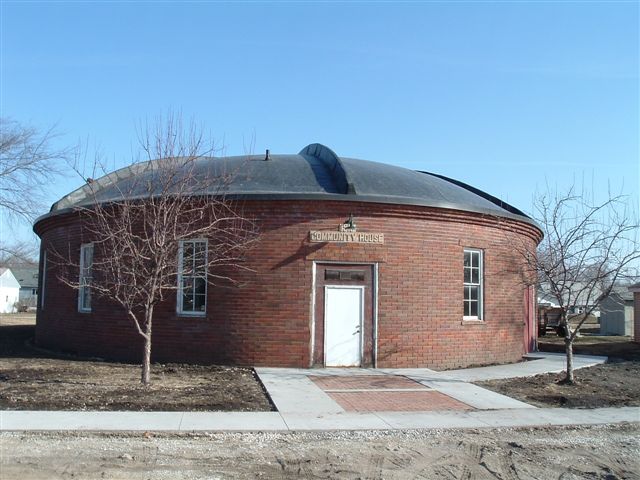 The Roundhouse was built in 1916 through the effort of several prominent members of the community to replace a building that had been used as a place for revival meetings, social gatherings and entertainment of the time. Subscriptions were made, and when at last $10,000 was pledged, plans were drawn for a public building of such uniqueness and size that it was deemed the first of its kind on the American Continent. The architect was Major Matthew Leander King, Grandfather of actor Nick Nolte. The 100' x 68' building appears to be round at ground level but, in fact, the building is elliptical. It is constructed of hollow blocks throughout. The roof is domed without support except at the walls. Rumors and fears about the impending collapse of the roof began before construction was even completed. In order to alleviate these fears, cars were driven up board ramps onto the roof to prove the strength and durability of the seemingly unsupported dome. The interior offers an entrance with a box office at the South end of the ellipse, and at the opposite end, a performance stage.
Before the days of schools with spectator gymnasiums, the local school district used the building extensively. Because of the excellent acoustics and seating capacity, the building was used for activities including school plays, musical presentations and graduation ceremonies. Before completion of the new High School, basketball games, including sectional tournaments were held in the facility with bleacher seating for 1,000 spectators.
The 90 year old building was placed on the National Register of Historic Places in 1975. It continues to be a popular site for a variety of community and social functions such as dances, talent and variety shows, theatrical productions, recitals, plays, wedding and anniversary receptions, reunions, church services, club meetings, dinners, flea markets, fitness and sports activities, and a multitude of other events.
Since 1985, the Community House Board has worked to keep the facility in usable condition. In the fall of 2001, a full-blown campaign for a full restoration was begun and 3 parts of a 5 phase restoration project have been completed.
The Roundhouse continues to be the site for annual events including Cruise Nite in June, community potluck at Fall Festival in August, a Halloween party for kids, a Holiday Bazaar in November, an Old fashioned Christmas in December and monthly bingo.
To this day, the Dexter Community House remains an architectural wonder of engineering technology. Each first visit by an architect, engineer, contractor or even the general public elicits a jaw dropping "WOW" upon entering the auditorium with its 30' high dome. It is thought to be the only building of its kind in the state and possibly the nation.
Submitted by Doris Feller 02/09
Further information, including rental and events, can be found at the offical Roundhouse Website.
http://www.dexterroundhouse.org (not active)

Additional Links
http://www.waymarking.com/waymarks/WM7AQ2_Dexter_Community_House_Dexter_Iowa